NEW! SUBSCRIPTION - DENTTABs with/without fluoride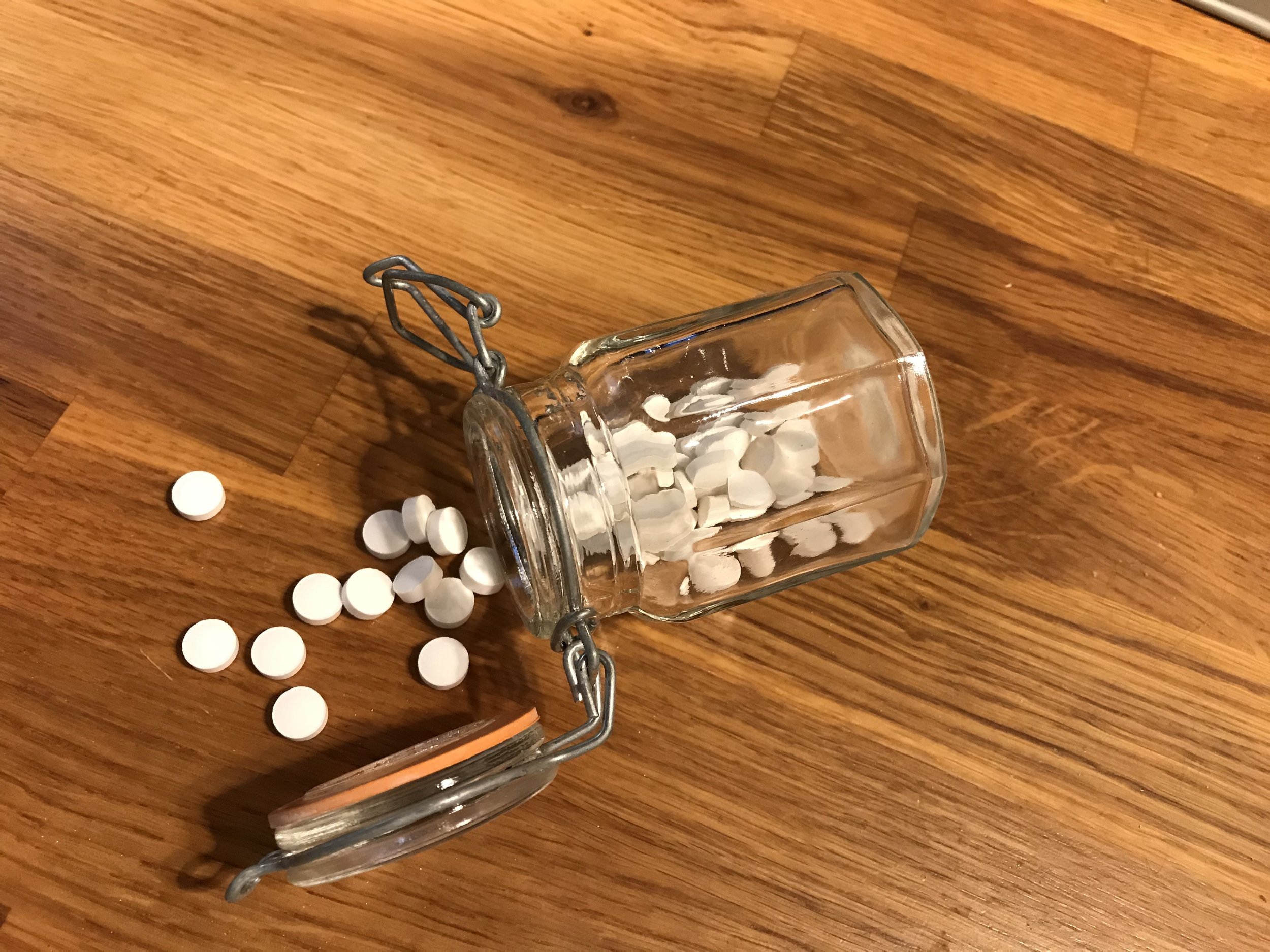 NEW! SUBSCRIPTION - DENTTABs with/without fluoride
Every year in the UK alone we dispose around 250 million empty toothpaste tubes and squeezable toothpaste tubes are difficult to recycle. Some alternatives to your normal toothpaste are less than palatable! Bicarbonate of soda alone has a salty gritty texture that isn't everyone's cup of tea - my kids wouldn't go near it and I confess I wasn't too keen to keep using it either.
So we researched and we tested and we discovered DENTABBS. A tablet form of tooth cleaner - minus all the chemical agents that make everyday toothpaste foam and feel pasty but are not contributing to tooth health, just chemical load on your body!
You can choose with fluoride - for adults this is essential to tooth health and repair, or without - great for younger children or those wishing to avoid fluoride.
To use: pop a tab in your mouth, with a little water and chew, then brush as normal with a soft brush (your dentist says 2 minutes morning and night).
This a subscription product - 360 tabs for 6 months for one person. If you would like to try before you buy in a bigger quantity we can supply a trial pack of 10. Delivered in paper envelopes.
Ingredients: Microcrystalline Cellulose, Sodium Bicarbonate, Silica, Sodium Lauroyl Glutamate, Magnesium Stearate, Aroma (Natural Mint Flavour), Menthol, Xanthan-Gum, Stevioside, Citric Acid, Sodium Fluoride, Eugenol
DENTTABS are glutamate- and gluten-free. DENTTABS are free of preservatives, germ-inhibiting substances, binders and contain neither aluminium nor nanoparticles
Benefits over standard toothpaste:
The wood cellulose polishes your teeth to a super smooth finish, leaving them bright and shining but most importantly so smooth that dental plaque struggles to take hold. A build up of dental plaque leads to tooth decay.
Denttabs contain the same amount of fluoride as 1g of standard toothpaste but due to the chewing of the tablets that fluoride becomes readily mixed with your saliva and available to speed the creation of remineralising crystals and tooth repair. Denttabs are therefore particularly good for sensitive teeth. In standard toothpaste the fluoride is not as readily available to the remineralising process.

You avoid unnecessary ingredients that toothpaste needs to turn water into a stable, in a wide range of temperatures, foaming, disinfected and disinfecting, 'good looking' and 'good tasting' paste two or even more times a day. The tissues of the mouth and throat are very sensitive.

You avoid a hard to recycle plastic tube.

You avoid excess use, using a single tab rather than a toothbrush full of paste. This has been great with my kids!
Purpose of ingredients (as described by the manufacturer):
Stevia (Stevioside) is a sweet-tasting plant that, together with the aroma and the menthol, provides the good taste.
Silica (silica) serves as a cleaning agent and helps to remove any soft plaque.
Natural (mint) aroma, together with stevia and menthol, provide a pleasant feeling of freshness and a "cool" and fresh breath.
Sodium bicarbonate, adjusts the pH to 5.5 with vitamin C.
Vitamin C (ascorbic acid/citric acid) regulates the pH value together with sodium bicarbonate (see above) and stimulates the salivation. The increased flow of saliva causes a faster remineralization of the tooth surfaces.
Magnesium Stearate (Magnesium Stearate) is a herbal adjuvant used in tablet manufacturing.
Menthol, together with stevia and the mint aroma, provides the pleasant "freshness afterwards".
Xanthan gum is a natural thickener and gelling agent and provides the pleasant creaminess after chewing DENTTABS Toothpaste tablets.
Eugenol is part of the natural mint flavour
DENTABBS are made in Germany but the good news is that they ship CO2 neutral so they pay to offset the carbon emissions made during shipping. Good guys :-)