Steampunk Roasted Coffee ground for cafetiere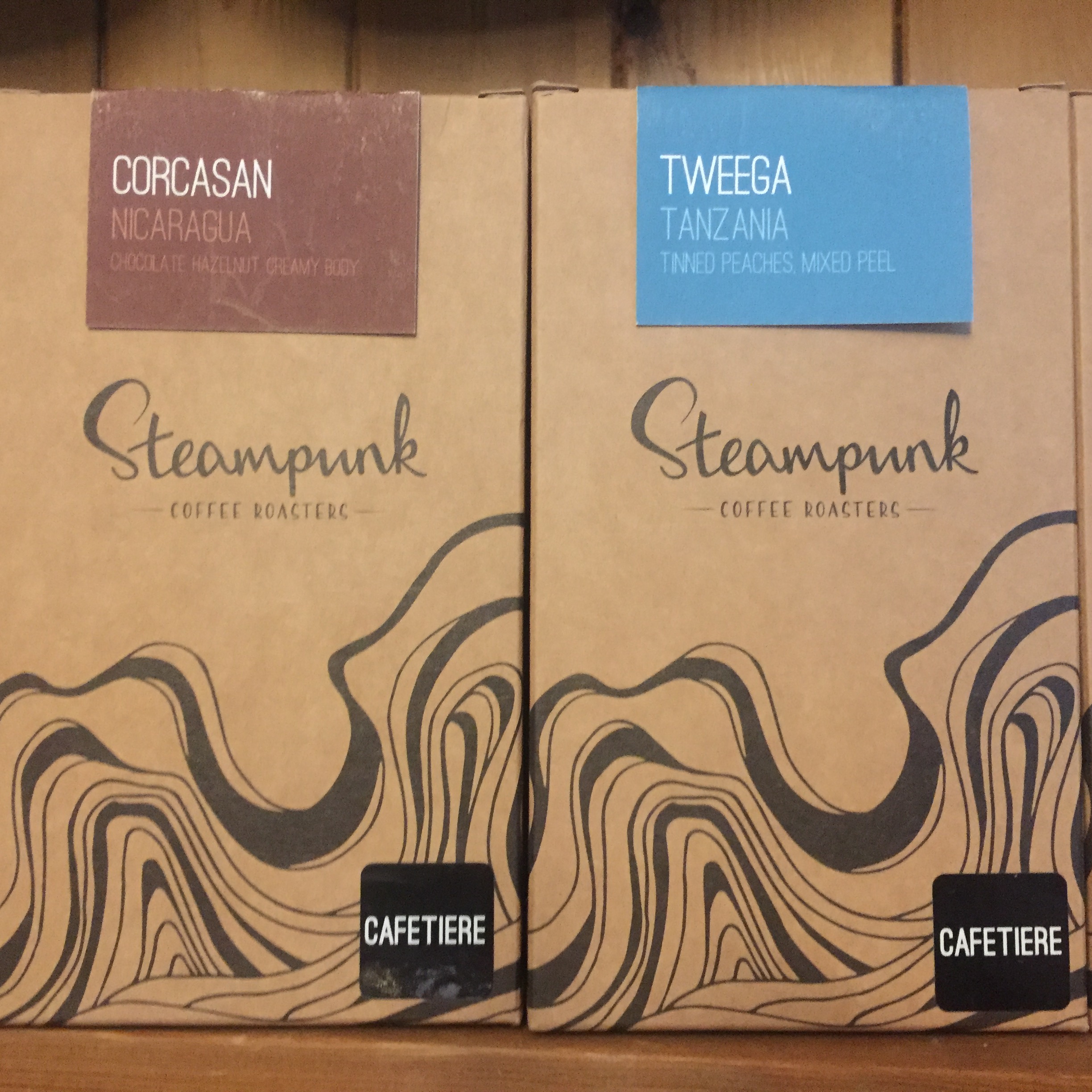 Steampunk Roasted Coffee ground for cafetiere
North Berwick's own roasters Steampunk provide Lil with our caffeine hits. Sourced from fully traceable coffee with quality, ethical and environmental care from farmer to barista and packaging. Looking for beans?
The packs are fully recyclable and compostable; make beautiful gifts and great wake-me-ups!
Choose a surprise box, decaf or select your variety from the information below...
Varieties available? Steampunk says….
La Huaca, Peru

Tasting Notes: Honey, Melon, Vibrant
Region: Huabal, Jaen
Altitude: 1,800-1,900 masl
Varietal: Caturra, Typica, Catimor
Process: Washed

We fell in love with this Peruvian because of its bright acidity, sweetness, and complexity. We wanted a coffee that would satisfy customers looking for distinctive flavours layering in the cup. This coffee has vibrant notes of orange blossom, mandarin and melon, with milk chocolate and caramel underneath and a honey-like sweetness.

La Huaca is a village in the district of Huabal that is home to over 30 coffee farming families. Most of the coffee is bought by intermediaries that control the supply chain and depress the price farmers are paid. The most vulnerable producers are those that are not part of an association and they represent 75% of producers in Northern Peru, including those in La Huaca. The importers of this coffee, Falcon Specialty, saw huge potential in the area. The growing conditions are ideal, there is a lot of pure Arabica planted, and the cup profile is distinctive. However, they had been unable to build relationships with farmers and impact the overall quality and traceability of the coffee being produced. So, they decided to set up a warehouse in Jaen and started buying coffee directly from producers. This shift in approach to sourcing has allowed Falcon to buy coffee directly from farmers and pay them a fair price with premiums well above the market price – in most cases double.

Santa Ines, Brazil (Lou and Sarah's favourite)

Tasting Notes: Roasted nut, Caramel, Praline
Region: Carmo de Minas, Minas Gerais
Altitude: 1,100 - 1,540 masl
Varietal: yellow bourbon
Process: natural

This is the second year we've bought this coffee, so some of you are already familiar with it. Like last year we love the velvety mouthfeel, the notes of chocolate and praline, and the overall sweetness in the cup. This coffee should be very easy to work with, offering consistent quality shot after shot.

According to our importer, Falcon Specialty, the Santa Ines farm has been in the Pereira family since 1979. When they initially inherited the farm there was much work to be done, and they started a process of renovation and replanting of new varietals, as well as accessing help from outside the farm to look at their processes and find ways to improve the quality of coffee they could offer. After years of hard work and experimentation the family was rewarded with winning the Cup of Excellence in 2005 with the highest score recorded of 95.85 for the pulped natural category.